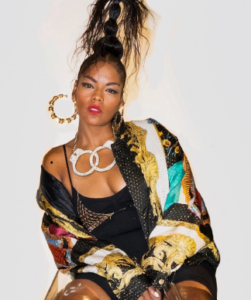 Mika Means is a singer, songwriter, rapper, dancer and producer. As a native of Atlanta, GA, she got her start on stage doing musical theater with The Freddie Hendricks Youth Ensemble of Atlanta. This professional youth theater company performed in Amsterdam, South Africa, China and all throughout the United States. Due to her background and training, Mika Means was signed by Universal Motown by then president, Sylvia Rhone. She signed her to a multi-million dollar deal on the spot.
Currently Mika Means it working on her independent project with her lead singles "Single Life" and "Traffic". While watching her numbers climb, she is consistently writing for music industry's top artists! Mika's latest work "Juicy Booty" can be heard on Chris Browns multi platinum album "Heart Break on a Full Moon.
Having all of the components to create a new wave of artistry, she is a force to be reckoned with. Mika Means is not only an innovative artist with a unique and original sound, she has demonstrated that she is a leader in the development of the music industry.